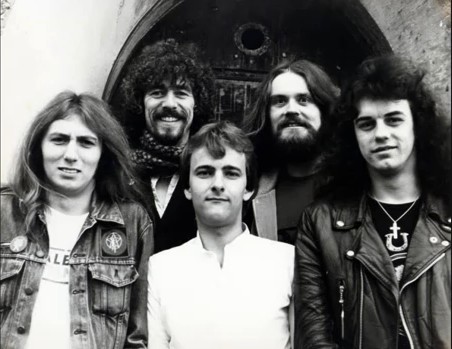 Location:
 St. Albans |
Website: 
Graham Shaw
Line Up
Graham Shaw (v) Graham Killin (g,v) Bob Bonshor (g) Jon Kocel (b) Maurice Hollingsworth (d) Ronnie Neighbour (v) Jim Winspur (v) Gez Turner (b) - also in Pussy Paul Hornby (b) Roy Reed (d)
Notes:
- Bleak House probably got their name from the Charles Dickens novel. The novel was first published in 20 monthly instalments between March 1852 and September 1853 - Metallica used the first few notes of the song 'Rainbow Warrior' for the intro of 'Welcome Home (Sanitarium)'
---
Rainbow Warrior
7" Buzzard Records (1980) Buzz 1 1. Rainbow Warrior 2. Isandhlhawa 3. Inquisition *Pressed in 1000 copies. 500 in plain sleeve
---
Lions in Winter
7" Buzzard Records (1982) BUZZ 2 1. Chase The Wind 2. No Reply 3. Down To Zero 4. Flight Of The Salamander *Included insert with bio
---
Live 1980
CD self-released (2000) 1. Intro 2. To the Gods 3. Nothing 4. One in the Eye 5. Lost Fortunes 6. Again & Again (excerpt) 7. Street Story 8. Arise with the Prince 9. The Darkest Night 10. Inquisition 11. Eye of the Tiger 12. Rainbow Warrior 13. Isandhlwana 14. Stallion 15. Inquisition (encore) 16. Lost Fortunes (encore) *Recorded live at the Stonehouse, Hatfield, November 16th, 1980 *Not much evidence was found on the existance of this album so it might be an unauthorised digital only release.
---
Suspended Animation
CD Buried By Time And Dust Records (2009) DUST 006 LP Buried By Time And Dust Records (2009) BBTAD 006 1. Rainbow Warrior 2. Isandhlwana 3. Inquisition 4. Chase The Wind 5. No Reply 6. Down To Zero 7. Flight Of The Salamander 8. To The Gods 9. Lost Fortunes 10. Arise With The Prince 11. Inquisition 12. Rainbow Warrior 13. Stallion Tracks 1-3: Rainbow Warrior 7" (1980) Tracks 4-7: Lions In Winter 7" (1982) Tracks 8-13: Live at the Stonehouse, Hatfield, November 16th, 1980 *LP limited to 500 copies *CD includes 7 additional bonus tracks from the live recording at Stonehouse. Tracks 1-7 same as the LP and then: 8. Intro 9. To The Gods 10. Nothing 11. One In The Eye 12. Lost Fortunes 13. Again And Again 14. Arise With The Prince 15. The Darkest Night 16. Inquisition 17. Eye Of The Tiger 18. Rainbow Warrior 19. Isandhlwana 20. Stallion
---
Gallery:
---
Right now on ebay: