Location:
Manchester |
Website:
n/a
Line Up
Sean Canning (v) - also in Narcotic and Monkey Gun Martin Ainscow (g) John Murney (b) - also in Narcotic and Goldblade Mark Robo (d) Dave Clowes (b) Paul Davies (b) Chris Lea (d) - also in Buffalo and Monkey Gun Darren Wilcock (d)
Notes:
- Active from 1980 through 1984 when they tried to re-invent themselves into a more trash/punk direction under the name White Trash. Apparently White Trash recorded an album for Music For Nations in 1988 but it was never released - Frontman Sean Canning mentioned that there is some unreleased material of Sacred Alien hidden in the dungeons. Their manager, Warren Heighway, passed away in 2006 and all the original masters "
disappeared with him
"
---
Demo 1981
1. Portrait 2. Energy 3. Eternal Flame 4. From Both Sides Of The Globe
---
Spiritual Planet
7" Greenwood Music (1981) G. W. 001 1. Spiritual Planet 2. Energy
---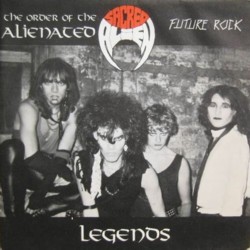 Legends
7" Heighway Robbery Wreckords (1983) SAD 001 1. SACRED ALIEN - Legends 2. VIRGIN - Sittin' In The Front Row *Split 7" with Manchester based Glam band Virgin
---
Gallery:
Right now on ebay: