Location: Bristol | Website: facebook
Line Up
Lars-Goran Persson (v) – also in The Storyteller, Special Edition and Crystal Light
Garry Pepperd (g) – also in The Arena
Simon Patel (b)
Nathan Cox (d) – also in Motherlove, Smiler and Smokin'
Rob Reiss (v)
Paul Merrell (v) – also in Hellrazer and Stormtrooper
Jamie Manton (v) – also in Exclusion and Murmur
Jeff Cox (b,v) – also in Targa and The Lost Boys
Darren Furze (b)
Chris Lovell (d)
Gary Davies (d) – also in Multi Storey
Les Foster (d) – also in Tok-io Rose
Will Sealey (d)
Gareth Johnson (k)
Notes:
– Generally considered as one the first Speed Metal bands along with Venom and Raven!
– Back in the day, Jaguar toured or just played gigs with bands such as Girlschool, The Rods, Stampede, The Starfighters and many others.
– Appeared in quite a few compilations over the years. Here are just some of them:
"Heavy Metal Heroes" (LP, Heavy Metal Records, 1981) with 'Stormchild'
"All Hell Let Loose" (LP, Neat Records, 1983) with 'Dirty Tricks'
"Metal Battle" (LP, Roadrunner, 1983) with 'Run For Your Life'
"The Metal Machine" (LP, Roadrunner, 1984) with 'Sleepwalker'
"The Best Of British – A Rock Collection" (LP, Zebra Records, 1985) with '(Nights Of) Long Shadows'
"Metal Killers III" (LP, Castle Communications, 1985) with 'Last Flight'
---
Demo 1980
1. Feel The Heat
2. Battle Cry
3. Piledriver
---
Demo 1981
1. Stormchild
2. Ain't No Fantasy
3. War Machine
4. Battlecry
5. Feel The Heat
6. Piledriver
*Tracks 4-6 are the same recordings from Demo 1980
*Tracks 1-4 appeared as bonus tracks on the A-II-Z bootleg release of "The Witch Of Berkeley" (CD, Reborn Classics, 1993)
---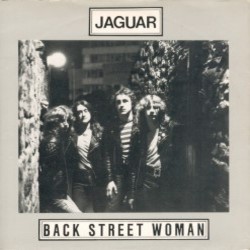 Back Street Woman
7″ Heavy Metal Records (1981) HEAVY 10
1. Back Street Woman
2. Chasing The Dragon
*Pressed in 4000 copies and sold out ten weeks after its release.
---
Axe Crazy
7″ Neat Records (1982) NEAT 16
CD single Skol Records (2017) UK 009
1. Axe Crazy
2. War Machine
*This is one of Neat's best selling singles
*CD single release by Skol Records is a replica of the 7″ with the original artwork etc limited to 500 copies.
---
Power Games
LP Neat Records (1983) NEAT 1007
LP Roadrunner Records (1983) RR 9934
LP WEB Records (1983) WEB 015
LP Neat Records / Base Records (1983) 1007
LP Banzai Records (1984) BRC 1920
LP Continental (1987) LP 3 35.404019
LP Real Gone Music (2017) RGM-0578
LP Back On Black (2017) BOBV462LP
LP + 7″ High Roller Records (2020) HRR 762
CASSETTE Banzai Records (1984) BRC4 1920
CD Metal Mania (1992) TECX 25391
CD Neat Metal (1998) NM024
CD Metal Blade Records (1998) 3984-14320-2
CD NEMS Enterprises (1998) NEMS 96
CD Heavy Sounds (2016) HS 504
CD Dissonance Productions (2017) DISS063CDD (digi)
1. Dutch Connection
2. Out Of Luck
3. The Fox
4. Master Game
5. No Lies
6. Run For Your Life
7. Prisoner
8. Ain't No Fantasy
9. Rawdeal
10. Coldheart
11. Axe Crazy
12. War Machine
13. Dirty Tricks
*There is also a Neat pressing on purple vinyl from 1983 with the same cat# number. This pressing is limited to 500 copies
*Tracks 11 and 12 bonus on the 1992 CD pressing by Metal Mania
*Tracks 11-13 bonus on the CD releases by Neat Metal, Metal Blade, NEMS and Dissonance
*At least one Russian bootleg CD in circulation almost identical to the Neat Metal release
*CD by Heavy Sounds has the following bonus tracks:
11. Dirty Tricks
12. Axe Crazy
13. War Machine
14. Back Street Woman
15. Ghasing The Dragon
16. Stormchild
*LP re-release by Real Gone Music limited to 1050 copies: 700 in Brown/Green and 350 in Black/White splatter vinyl
*LP re-release by Back On Black on red vinyl
*LP re-release by High Roller limited to 1000 copies: 400 copies on Silver, 300 copies on Black, 200 copies on Purple and 100 copies on Clear/Silver splatter vinyl. The 7″ has the tracks: 'Axe Crazy', 'Dirty Tricks' and 'War Machine'
---
This Time
LP Roadrunner Records (1984) RR9851
LP Roadracer Records (1984) IRD008
LP Roadrunner Records (1984) RRR-207
CASSETTE Roadracer Records (1984) IRDT 008
CASSETTE Roadracer/Attic (1984) RRC 207
CD Roadrunner Records (1985) RR 349851
CD Time Warp (2003)
CD Metal Mind (2009) MASS CD 1254 DG
1. This Time
2. Last Night
3. A Taste Of Time
4. Another Lost Weekend
5. Stand Up (Tumble Down)
6. Sleepwalker
7. Tear The Shakle Down
8. Stranger
9. Driftwood
10. (Night Of) Long Shadows
*The Metal Mind CD comes in digipack limited to 2000 numbered copies and has the following bonus tracks:
11. (Nights of) Long Shadows (demo)
12. Last Flight (demo)
13. Sleepwalker (live)
14. This Time (re-mix)
---
Wake Me
CD Neat Metal (2000) NM041
1. Mouth And Trousers
2. Junk
3. Sucker
4. Wake Me
5. Occasional Hell
6. Polish
7. Scrap Metal
8. Power Games
9. Dawn Chorus
10. Pigeon Access Point
---
Power Games – The Anthology
2CD Sanctuary Records (2002) CMDDD413
CD1
1. Back Street Woman
2. Chasing The Dragon
3. Stormchild
4. Axe Crazy
5. War Machine
6. Dutch Connection
7. Out Of Luck
8. The Fox
9. Master Game
10. No Lies
11. Run For Your Life
12. Prisoner
13. Ain't No Fantasy
14. Raw Deal
15. Coldheart
16. Dirty Tricks
17. Long Shadows (BBC Session)
18. Last Flight (BBC Session)
CD2
1. This Time (BBC Session)
2. Stand Up (BBC Session)
3. A Taste Of Freedom
4. Another Lost Weekend
5. Sleepwalker
6. Tear Down The Shackles
7. Driftwood
8. Mouth And Trousers
9. Junk
10. Sucker
11. Wake Up
12. Occasional Hell
13. Polish
14. Scrap Metal
15. Power Games
16. Dawn Chorus
17. Pigeon Access Point
*Including the albums "Power Games", "This Time" and "Wake Me" plus the two singles, BBC Radio One Sessions, the track from the "Heavy Metal Heroes" compilation (CD1 – 3) and a track from the "Power Games" album sessions (CD1 – 16)
---
Run Ragged
CD Angel Air Records (2003) SJPCD150
1. Run Ragged
2. Feng Shui
3. As The Crown Flies
4. No Change Given
5. Living Hell
6. Gulf War Syndrome
7. Nailed
8. Stray
9. This Is Your Life
10. Eighties
11. My Weakness
---
Holland 82
CD Majestic Rock (2006) MAJACD1
2LP Buried By Time And Dust Records (2011) Dust 018
1. Dutch Connection
2. Out Of Luck
3. Prisoner
4. Axe Crazy
5. Master Game
6. The Fox
7. Raw Deal
8. Run For Your Life
9. Stormchild
10. No Lies
11. War Machine
12. Backstreet Woman
13. Cold Heart
14. Chasing The Dragon
15. California Man
*Recorded live at the Siesta Club in Hengelo, Holland, December 17, 1982
*The Majestic Rock CD is limited to 1000 copies
*The full title of the 2LP is "Axe Crazy In Holland" both releases include the same recording
---
Archive Alive Volume I
CD Majestic Rock (2007) MAJCD097
1. Feel The Heat
2. Piledriver
3. Battlecry
4. Hell Riders
5. Killer
6. Black Stallion
7. Stormchild
8. Devil's Answer
9. War Machine
10. Stormchild
11. Ain't No Fantasy
12. War Machine
13. Battlecry
14. Crack In The Wall
15. Wastin' Time
16. Scrap Metal
*Tracks 1-3 from the Demo 1980
Tracks 4-9 recorded live at The Granary Club, Bristol, July, 10th 1980
Tracks 10-13 from the Demo 1981
Tracks 14-15 from an unreleased Demo session in 1982
Track 16 from an unreleased 8 track demo session recorded in Warmley, Bristol, March 1983
---
Opening The Enclosure
LP High Roller Records (2010) HRR 143
LP High Roller Records (2012) HRR 143
CD High Roller Records (2011) HRR 143 CD
1. Feel The Heat (Demo 1980)
2. Piledriver (Demo 1980)
3. Battlecry (Demo 1980)
4. Stormchild (Demo 1981)
5. Ain't No Fantasy (Demo 1981)
6. War Machine (Demo 1981)
7. Battlecry (Demo 1981)
8. Crack In The Wall
9. Wastin' Time
10. Scrap Metal
*Tracks 8-10 unreleased from 1982-1983
*First LP pressing in 500 copies: 350 in black vinyl and 150 in special 'bone' color
*Second LP pressing in 500 copies: 300 in black vinyl and 200 in purple vinyl
*Third LP pressing in 500 copies on gold vinyl
---
Metal X
CD Golden Core Records (2014) GCR 20092-2
2CD Golden Core Records (2014) GCR 20092D-2
LP Golden Core Records (2015) GCR 20092-1
1. Warts & All
2. New Tricks
3. 3 Minute Song
4. X-Wing
5. Out Of Time
6. Fair Wind Of Fire
7. Day of the Triffids
8. Moral Decline
9. Horse
10. Painted In A Corner
11. Stormchild 2014
*The 2CD edition comes in digipack and includes the entire "Run Rugged" album from 2003
1. Run Ragged
2. Feng Shui
3. As The Crown Flies
4. No Change Given
5. Living Hell
6. Gulf War Syndrome
7. Nailed
8. Stray
9. This Is Your Life
10. Eighties
11. My Weakness
---
Gallery:
---