Location: Birmingham | Website: facebook
Line Up
Graham Careless (v)
Garry Chapman (g)
Stu Clarke (g) – also in Ian The Goat
Fez Ferriday (b)
Roger Whitehouse (d)
Pete Wain (k) – also in The Blue Ox Babes
Steve Burton (v) – also in Starfighters
Mick Billingham (k) – also in Dexy's Midnight Runners, General Public and The Beat
Notes:
– Appeared on the compilation "Brute Force" (LP, MCA Records, 1980) with the track 'Day To Day'
– On January 23rd, 1981, Cryer were featured on Tommy Vance's Friday Rock Show on BBC Radio One with the tracks: 'The Visionary', 'Spaces', 'Footsteps Through Time' and 'Cyclone'
– Guitarist Stu Clarke passed away on a diabetic coma on July 21st, 2009
– Cryer played 2 reunion gigs in 2010. Also on December 16, 2011 they played a charity concert at The Asylum in Birmingham along with Quartz. They replicated the night they played together at Digbeth Civic Hall on December 1, 1979, when Quartz recorded their live album.
---
The Single
7″ Happy Face (1980) MM 124
1. The Single
2. Hesitate
---
Force – Set Me Free
LP Heavy Metal Records (1984) HMR LP 16
1. King's Fury
2. Don't Throw My Love Away
3. Footsteps
4. Hesitate
5. I Want Too See You
6. Break Away
7. Day To Day
8. Time Is Right
9. Hold On To Your Love
*Recorded by Cryer at the Old Smithy studios in Worcester in the early 1980s. However, it was released one year after the band split in 1983 under the name Force. It appears that the name change was the label's decision who did so without even informing the band.
---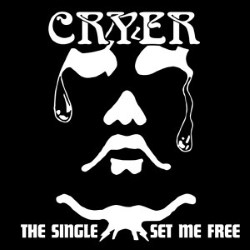 The Single / Set Me Free
CD No Remorse Records (2015) NRR089
1. The Single
2. Hesitate
3. King's Fury
4. Don't Throw My Love Away
5. Footsteps
6. Hesitate
7. I Want To See You
8. Break Away
9. Day To Day
10. Time Is Right
11. Hold On To Your Love
*Limited to 500 copies (100 copies given with a T-shirt) – collects the tracks from the 7″ and the Force "Set Me Free" album
---
Gallery:
---