Location: Newcastle | Website: facebook
Line Up
Ian Swift (v) – also in Atomkraft, Cardinal Synne, Satan and Tysondog
Sean Jefferies (g) – also in Fallen Skies, Earthrod, Maiden UK, Shökker and Sacred Illusion
Liam Thompson (g) – also in Death in Blood
Huw Holding (b) – also in Blitzkrieg, Nord, Order Of The Black Sun, Cardinal Synne and Maiden UK
Gary Young (d) – also in Blitzkrieg, Repulsive Vision and Order of the Black Sun
Brian Ross (v) – also in Blitzkrieg, Satan, Lone Wolf, Anvil, Split Image and Kashmir
Rodrigo Bvevino (aka Roddy B) (v) – also in Atlantis Knight, Abaddon, Last Joker and Axxed Asylum
Glenn S. Howes (g) – also in Earthrod, Blitzkrieg, Tygers of Pan Tang and Reign
Les Cheetham (g) – also in Venom
Greg Reiter (g) – also in Metalwolf
John Brownless (g)
Steve Bird (g)
Ginger Wildheart (aka David Walls) (g) – also in The Wildhearts, The Quireboys, Michael Monroe Band and in many other projects
Dean Thompson (g) – also in Lightning Lord
Huw Holding (b) – also in Cardinal Synne, Nord and Order of the Black Sun
Mick Moore (b) – also in Blitzkrieg
Andy Watson (b)
Ian Fulton (b)
Darren Kurland (d)
Notes:
– Avenger were quite popular in Holland where they toured in 1985. For that tour only they were joined by guitarist Ginger who later became famous with The Quireboys and The Wildhearts
– Avenger also included in the VHS compilation "Metal City" (Polygram, 1985) with the videos of Under the Hammer, Too Wild to Tame, Revenge Attack and Run for Your Life. This compilation has also been released on CD (Prism Entertainment, 1987) and DVD (Cherry Red Records, 2008). The DVD version is credited as a Venom release.
---
Demo '82
1. Hot and Heavy Express
2. Hunt You Down
3. Love's Too Late
---
One Take No Dubs
12″ Neat Records (1982) NEAT 25
1. Alien – Could Have Done Better
2. Avenger – Hot 'n' Heavy Express
3. Black Rose – Knocked Out
4. Hellanbach – All Systems Go (Full Scale Emergency)
*4-way split live in the studio
---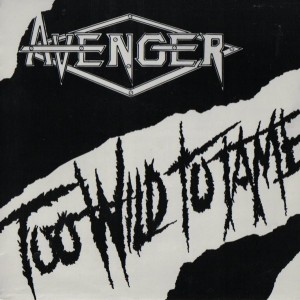 Too Wild to Tame
7″ Neat Records (1983) NEAT 31
CD single Skol Records (2017) UK 012
1. Too Wild to Tame
2. On the Rocks
*Recorded at Impulse Studios in Wallsend
*CD single release by Skol Records is a replica of the 7″ with the original artwork etc limited to 500 copies.
---
Blood Sports
LP Neat Records (1984) NEAT 1018
LP Roadrunner (1984) RR 9846
LP Banzai Records (1984) BRC 1917
LP Back On Black (2018) BOBV529LP
CD Frontline Rock Classics (2002) FLRC-1001
CD Krescendo Records (2009) KRECD35
CD Dissonance Productions (2018) DISS093CDD
CD Classic Metal (2018) CM34
1. Enforcer
2. You'll Never Take Me (Alive)
3. Matriach (Montrose Cover)
4. Warfare
5. On The Rocks
6. Rough Ride
7. Victims Of Force
8. Death Race 2000
9. N.O.T.J.
*Bonus track on the Frontline Rock and Dissonance CDs:
10. Too Wild To Tame
*Bonus tracks on the Back On Black LP and Classic Metal CD:
10. Hot 'n' Heavy Express (radio jingle 1982)
11. Enforcer (demo 1983)
12. Love's Too Late (demo 1982)
---
Killer Elite
LP Neat Records (1985) NEAT 1026
LP Roadrunner (1985) RR 9753
LP Back On Black (2018) BOBV530LP
CD Frontline Rock Classics (2002) FLRC-1002
CD Krescendo Records (2009) KRECD36
CD Dissonance Productions (2018) DISS094CDD
CD Classic Metal (2018) CM35
1. Revenge Attack
2. Run For Your Life
3. Brand Of Torture
4. Steel On Steel
5. (Fight For The) Right To Rock
6. Hard Times
7. Under The Hammer
8. Face To The Ground
9. Dangerous Games
10. Yesterdays Heroes
11. M.M. 85
12. Sawmill
*The Frontline Rock Classics CD includes 3 bonus videos: Under The Hammer, Revenge Attack and Run For Your Life
*Bonus tracks on the Back On Black LP and Classic Metal CD:
13. Brand Of Torture (Hot 'N' Heavy Show '85)
14. Rough Ride (Demo 1983)
---
Blood Sports / Killer Elite
2LP Neat Records (1985) E-40.1038
Disc 1: Blood Sports
Disc 2: Killer Elite
*The two albums on one double LP. Released for the Spanish market only
---
Too Wild To Tame – The Anthology
2CD Castle Music (2002) CMDDD 571
*All songs Avenger have ever published
CD1
1. Hot 'n' Heavy Express (One Take No Dubs 12″ EP)
2. Too Wild To Tame (Too Wild to Tame 7″)
3. On The Rocks (Too Wild to Tame 7″)
4. Enforcer
5. You'll Never Take Me Alive
6. Matriarch
7. Warfare
8. On The Rocks
9. Rough Ride
10. Victims Of Force
11. Death Race
12. N.O.T.J.
CD2
1. Revenge Attack
2. Run For Your Life
3. Brand Of Torture
4. Steel On Steel
5. (Fight For The) Right To Rock
6. Hard Times
7. Under The Hammer
8. Face To The Ground
9. Dangerous Games
10. Yesterday's Heroes
11. M.M. 85
12. Sawmill
---
The Slaughter Never Stops
CD Rocksector Records (2014) RSRCD1243
CD Dissonance Productions (2018) DISSO137CDD
LP Back On Black (2018) BOBV557LP
1. Mace Imperial
2. Race Against Time
3. Fate
4. Fields of the Burnt
5. Into The Nexus
6. Decimated
7. In Arcadia Go!
8. Killers (Iron Maiden cover)
9. Flayer Psychosis
10. Shot To Hell
11. Midnight Mass Destruction
---
Gallery: