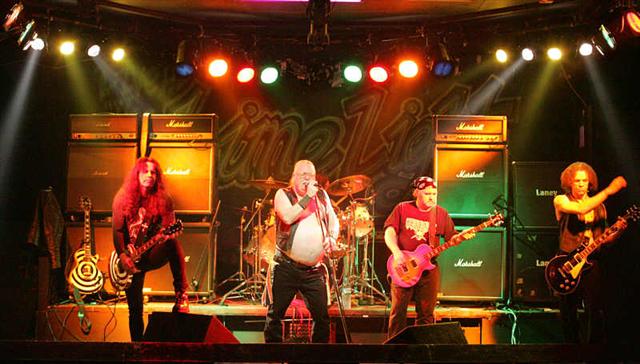 Location:
 Nuneaton |
Website:
official
|
myspace
|
facebook
Line Up
Jake Dodd (v) Mark Boreland (g) Alan Nyland (g) Shawn Till (b) - also in Motorkill Mick Robottom (d) Garry Dalloway (v) Simon Hall (v) - also in Beholder Rob Berkley (v) - also in Wrathchild, Titan, Wildside Riot and Discharge Phil Aston (g) - also in Rogue Male and Tantrum Paul Robins (g) Maz Mitrenko (g) - also in Titan and Psycho Ward Steven Hough (b) Mark Knight (b) Neil Finnegan (b) - also in Damien and Ricochet Simon Fielding (b) - also in Beholder and Adrenalin Kick Sean Brennan (b) Pete Malbasa (d) Ray Richman (d) - also in Bandanna and Psycho Ward Ted Duggan (d) - also in Two Tone Collective, Badfinger, The Mudsliders, Iron Horse, Chevy and The Motorvators. As a session musician he has played for Elton John, The Drifters, Bad Finger, Desmond Decker, Pauline Black, Rankin Roger and Banco da Gaia
Notes:
- Formed as back as 1972 and split up towards the end of the 1980s. Reformed in 1990 for a short time and then again in the early 2000's with various new members. - There is also an album entitled "
Little Sister
" (according to other resources the title is "
Obeastity
") which was recorded in the early 1990s and still remains unreleased. - Their last album "
Rock And A Hard Place
" recorded before Garry Dalway passed away (Aug 20th, 2006) - Notable compilation appearances: "
Heavy Metal Heroes
" (LP, Heavy Metal Records, 1981) with 'Local Heroes' "
Heavy Metal Heroes Vol III
" (LP, Heavy Metal Records, 1990) with 'Beast Within' and 'The Sixth Day' "
Heavy Metal Records - Singles Collection Vol. 1
" (CD, British Steel, 1996) which features all five tracks from the band's first two 7" singles.
---
All Riot Now
7" Heavy Metal Records (1980) HEAVY 1 1. All Riot Now 2. The Mark Of The Beast
---
Breaker
7" Heavy Metal Records (1981) HEAVY 2 1. Breaker 2. Crazy 3. One In A Crowd *This vinyl reads "Digital Spiral Groove E.P" on the cover and make use of a special feature where either track of the b-side will play depending on where exactly the needle comes down.
---
Beastiality
LP Heavy Metal Records (1981) HMR LP 2 CD British Steel (1996) CD METAL 5 CD No Remorse Records (2015) NRR088 1. Sweeties 2. David's Song 3. Breaker 4. One In A Crowd 5. Local Heroes 6. Another Day 7. Crazy 8. Tearing Me Apart 9. High Speed 10. The Mark Of The Beast 11. All Riot Now 12. Sweeties 13. You're On Your Own *Tracks 10-13 are from the 7" vinyls "All Riot Now" and "Sweeties" and appear as bonus tracks on the two CD re-releases. *CD by No Remorse limited to 500 copies, out of which 100 given with a T-shirt
---
Sweeties
7" Heavy Metal Records (1981) HEAVY 11 1. Sweeties 2. You're On Your Own
---
The Beast Within
LP Heavy Metal Records (1990) HMR LP 132 CD Heavy Metal Records (1990) HMR XD 132 1. Mr. Mescalito 2. Hairy Legs 3. The Way I Am 4. Chain Gang 5. The Beast Within 6. Rough Justice 7. Don't Hold On 8. The Sixth Day 9. Let It Go
---
04
CD Heavy Rock Records (2004) CDHER 6 1. Sickies 2. After Blood 3. Sweeties 4. Local Heroe 5. Riot 6. Ghost in My Mind 7. Don't Panic 8. Did You Sleep Well 9. Don't Talk to Strangers 10. The Only One Who Cares For You is Gone (The Dealer) 11. Rockin' is Ma' Business *Guest appearance by Pete Way (UFO)
---
Rock And A Hard Place
CD Q Records (2007) 1. Rock And A Hard Place 2. Animal 3. Blood On Their Hands 4. Drama Queen 5. One Thing More 6. Never Before 7. Heartbreaker 8. Headstrong 9. Love's A Game 10. Piper 11. Believe
---
Filthy Lucre
Digital download (2010) 1. After Blood 2. I Need A Woman 3. Gotta Be Rock And Roll 4. Mistreated 5. The Riot 6. Little Sister 7. Maybe I'm In Love 8. No Kind Of Lovin'
---
Gallery:
Right now on ebay: