Location:
Bristol |
Website:
official
Line Up
John Hall (v,g,k) Andy Skuse (v,b,k) - also in Bison, Mantiss and Red Shift Ted (d) Chris D'Avoigne (g) Jack Carver (d) Chris Logan (d) Phil Williams (d) Charlie (d)
Notes:
- Formed in 1979 and after months of writing and rehearsing they start giging in October 1980. - Supported the likes of Michael Schenker Group and Wishbone Ash. Also played with Diamond Head, Deke Leonard and The Vice Squad. A tour with Iron Maiden was also in the works but eventually folded as at the time Shiva started to have difficulties with drummer Chris Logan who decided to leave the band. - As a side job to support their band, Shiva were hiring their PA and their truck to other artists. Some of their 'clients' were Hawkwind, George Melly and The Platters. - Recorded a session for BBC Radio One's "Friday Rock Show" with Tommy Vance which was aired on January 14th, 1983 - Split up in the autumn of 1983. However, their last gig took place three years after that in the US! John Hall moved to the US in 1986 and Andy Skuse decided to go with him and play for the last time. Indeed they hired drummer Ted (unknown other credits) and after a week of rehearsals they played the Troubadour Club in Hollywood on September 23rd. - Shiva can be found on the following compilations: "
Heavy Metal Heroes Volume II
" (LP, Heavy Metal Records, 1982) with 'En Cachent' "
NWOBHM Metal Rarities Volume 2
" (CD, British Steel, 1996) with 'Rock Lives On' and 'Sympathy' "
Empire Of Thunder - A NWOBHM Collection
" (CD, Majestic Rock, 2005) with 'Ring Of Fire'
---
Demo 1980
1. Cut Me To The Quick 2. The Gallery 3. Thief 4. Questions *Recorded at Cave Studios with two guitars as a four-piece before the departure of Chris D'Avoigne
---
Demo 1980
1. Stranger Lands 2. En Cachent 3. Angel Of Mons *Recorded as a trio after the departure of Chris D'Avoigne
---
Rock Lives On
7" Heavy Metal Records (1982) HEAVY 13 1. Rock Lives On 2. Sympathy
---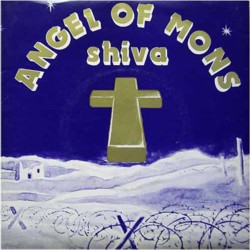 Angel Of Mons
Heavy Metal Records (1982) HEAVY 16 1. Angel Of Mons 2. Stranger Lands
---
Firedance
LP Heavy Metal Records (1982) HMR LP 6 CD British Steel (1996) CD Metal 8 CD No Remorse Records (2015) NRR086 1. How Can I? 2. En Cachent 3. Wild Machine 4. Borderline 5. Stranger Lands 6. Angel Of Mons 7. Rendezvous With Death 8. User 9. Call Me In The Morning 10. Shiva *Both CD releases include the following bonus: 11. Rock Lives On 12. Sympathy *CD by No Remorse limited to 500 copies out of which 100 came with a t-shirt
---
Demo 1983
1. The Runner 2. Burning Bridges *The only tracks recorded with drummer Charlie
---
Demo 1983
1. Power Of Persuasion 2. Ring Of Fire 3. Not There 4. Window On The West 5. Eden
---
Continuance
CD Majestic Rock (2004) MAJCD051 LP High Roller (2011) HRR 082 1. Power Of Persuasion 2. Ring Of Fire 3. Not There 4. Window On The West 5. Eden (Silent Running) 6. The Runner 7. Burning Bridges 8. The Gallery 9. Cut Me To The Quick 10. Thief 11. Questions 12. En Cachent *Tracks 1-7 recordings that were meant to be released as a second album in 1983 *Tracks 8-12 various demo recordings *LP limited to 300 copies, 200 on black and 100 on 'orange crush' vinyl
---
Gallery:
---
Right now on ebay: