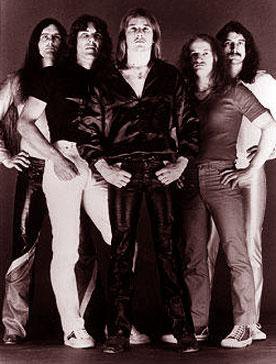 Location:
 Birmingham |
Website:
myspace
Line Up
Rik Staines (v) - also in Sweaty Betty Bob Key (g) - also in Suicide Dave Harrison (g) - also in Suicide Mark Overland (b) Steve Atkins (d)
Notes:
- Originally called Berlin - Very active on stage. Toured or just played with Budgie, Magnum, Ten Years After, Limelight, Chevy, White Spirit, Angel Witch etc. - There is a certain amount of myth regarding the initial release of the 'Lady Of Mars' single. Most internet resources (that copy/paste the exact same information) say that there is a self-released 7" on their own Steel Strike label that also includes a third track: 'Renegate'. Apparently only sleeves and labels were printed and the person in charge of the single dissapeared with all the budget. However, the most reliable source (Martin Popoff's "The New Wave Of British Heavy Metal Singles" book) mention that "
Yet somehow, a few were cobbled together for a single...
". Apart from that, we couldn't find any other hard evidence that such a single ever pressed, thus it is not mentioned on the discography below. If anyone owns it please sent as photo or a scan. [Edit Sept. 2016] Finally we found someone, who owned it. We can tell for sure that it was a 12" vinyl and not a 7". Self-released by the band and was their first official release. See below. - The song 'Lady Of Mars' appeared on the following compilations: "
Metal For Muthas Volume II
" (LP, EMI Records, 1980) "
Metal For Muthas - Essential New Wave Of British Heavy Metal
" (2CD, Sanctuary, 2003) "
Lightnin' To The Nations NWOBHM 25th Anniversary Collection
" (3CD, Sanctuary, 2005) Also the song 'Kaptain Amerika' appeared on the compilation "
Heavy Metal Killers
" (LP, Lark, ????)
---
Demo 1980
1. Die Tryin 2. Carry On 3. Stars Like Dust 4. Lady Of Mars 6. Renegade
---
Lady Of Mars
12" Steel Strike Records (1980) SSREP 1 1. Lady Of Mars 2. Rock And Romancing 3. Renegade
---
Lady Of Mars
7" Avatar Records (1980) AAA 105 7" Avatar Records (1980) AANP 4002 (Italy) 7" Avatar Records (1981) 02.2970/2 (Spain)

1. Lady Of Mars 2. Rock 'n Romancing

*The Spanish edition has the song 'Louisa' on the b-side
---
Dark Star
LP Avatar Records (1981) AALP 5003 LP Avatar Records/Bellaphon (1981) 260·07·025 LP Avatar Records (1981) 17.2970-0 (Spain) LP Avatar Records/Victor (1981) VIP-6792 (Japan) CD Pony Canyon (1993) PCCY-00495 (Japan) CD Krescendo Records (2009) KRECD43 CD Rock Candy Records (2013) CANDY183 1. Kaptain America 2. Backstreet Killer 3. The Musician 4. Lady Of Mars 5. Louisa 6. Rock Bringer 7. Lady Love 8. Green Peace *The 1993 Pony Canyon CD release has 6 bonus tracks and different tracklist: 1. Kaptain America 2. Die Tryin' (bonus) 3. Backstreet Killer 4. Carry On (bonus) 5. Rock 'n' Romancin' (bonus) 6. Lady of Mars 7. Stars Like Dust (bonus) 8. The Musician 9. Lady Love 10. Crazy Circles (bonus) 11. Louisa 12. Rock Bringer 13. Renegade (bonus) 14. Green Peace *The Rock Candy CD edition has the following bonus tracks: 9. Die Tryin' 10. Carry On 11. Rock' n Romancin' 12. Stars Like Dust 13. Crazy Circles 14. Renegade 15. Screaming
---
Kaptain Amerika
7" Avatar Records (1982) 02.2971/4 1. Kaptain Amerika 2. Louisa *Initially released for Spain only
---
Real To Reel
LP FM Revolver Records (1987) WKFM LP 97 CD No Remorse (2016) 0744430521642 1. Voice Of America 2. Rock N' Roll Heroes 3. Only Time Will Tell 4. Spy Zone 5. Homicide On First & Last 6. Stadium Of Tears 7. Sad Day In London Town 8. One Way Love 9. Goin' Nowhere 10. Two Songs Don't Make A Right *CD by No Remorse limited to 500 copies
---
Gallery:
---
Right now on ebay: