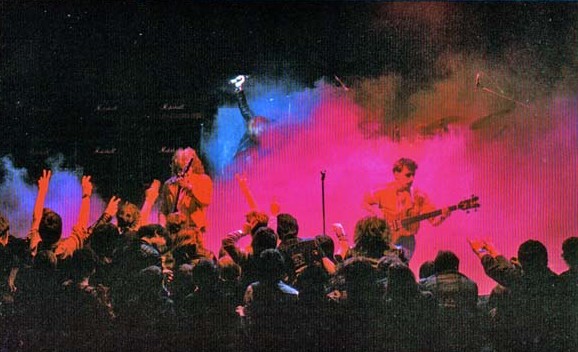 Location:
 Cardiff |
Website:
n/a
Line Up
Alun Wyn Davies (v) Huw John (g) Marc Hammond (b) John Evo (k) Tim Lewis (d) Gareth Morlais (v) Stuart Tosh (g) Pete Sawyer (b)
Notes:
- All lyrics in Welsh. Toured the US and Canada in 1983 and 1985. They also played in Hong Kong and Bangkok in 1987 - They made a few videos and appeared several times on TV - Apart from the recordings below, several other songs should exist on tape - Ceffyl Pren means "wooden horse" and it is a traditional form of mob justice where offenders are paraded tied to a wooden frame
---
Collasant Eu Gwaed
7" Anthem (1984) 1. Collasant Eu Gwaed 2. Rock Ar Y Radio *The song 'Rock Ar Y Radio' is actually a cover of 'Bedside Radio' by Krokus. It went to #1 in the Welsh language single chart in 1984
---
Roc Roc Nadolig
7" Graffeg (1987) Graffeg 01 1. Roc Roc Nadolig 2. Bangkok
---
Ennill Dros Gymru
12" Graffeg (1989) Graffeg 003 1. Ennill Dros Gymru (Gyda Cantorian Y Rhyd) 2. Ennil (Sports Mix) 3. Medal *The official theme song of the 1990 Wales Commonwealth Games Team.
---
Gallery: